This is a sponsored conversation written by me on behalf of Alamo Drafthouse. The opinions and text are all mine.

Denver, it's show time. Alamo Drafthouse has finally made its grand entrance in the Mile High, opening its second Colorado location in Sloan Lake (the original is in Littleton). This place has been on my bucket list for years since first learning about its awesomeness in Texas. If you're new to the Alamo world, this quirky cinema is a staple of 6th Street in Austin and brings a touch of weird and wacky to Denver. It'll fit right in, don't you think?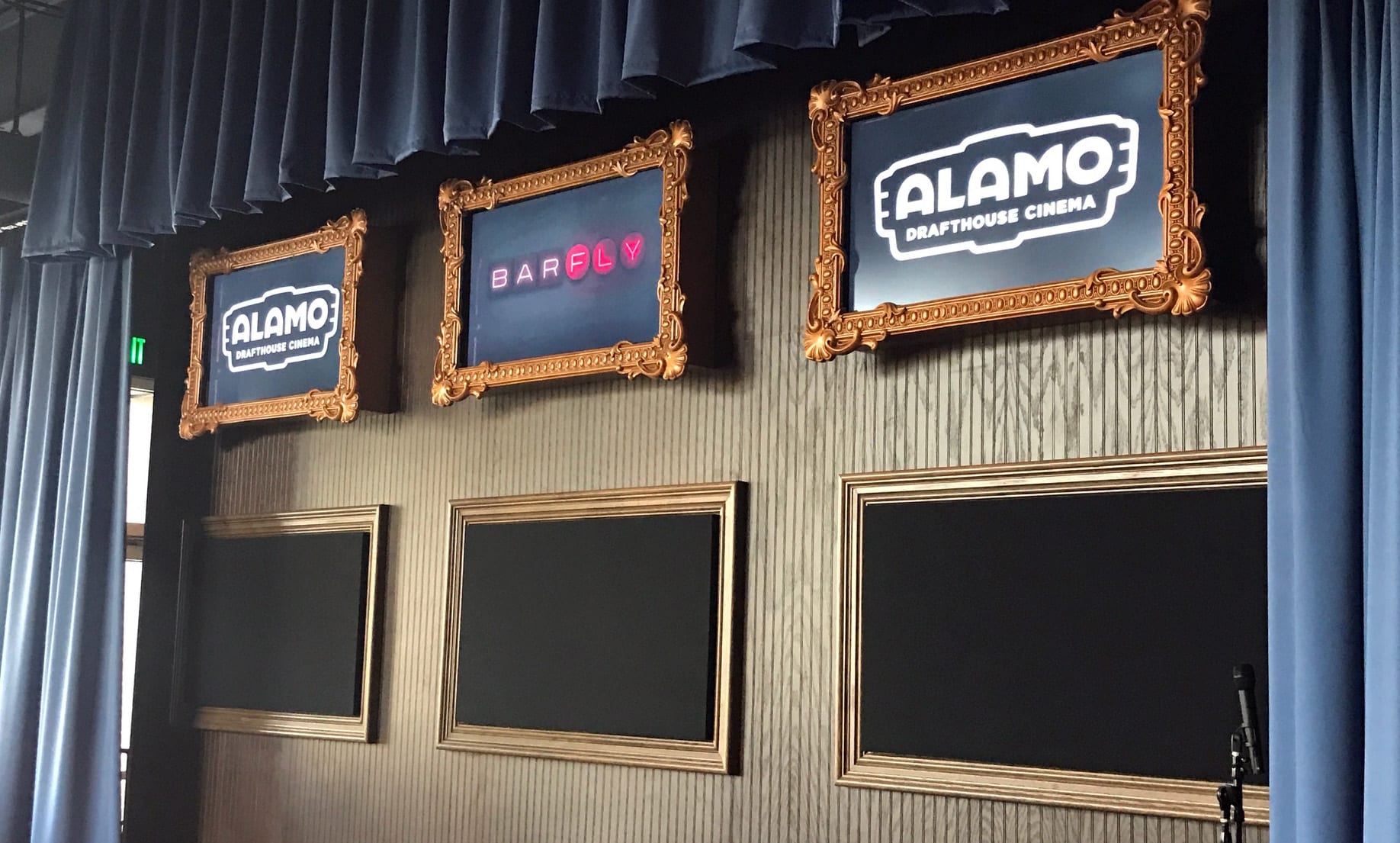 If you're looking for a unique twist on date night or girl's night out, it's far from your typical movie-going experience. In fact, Wired.com called Alamo Drafthouse the "Coolest Movie Theater in the World." I say its movie theater meets dinner theater meets live entertainment. While they do have daily showings of the standard new releases and blockbusters, what they're really known for is their special programming and interactive antics, which can include everything from sing-a-longs to quote-a-longs to dance performances, VHS revivals, food pairings, and even a kid's camp for your favorite cult classics. If you like the outdoor summer film series at Red Rocks, this is similarly awesome and available year-round.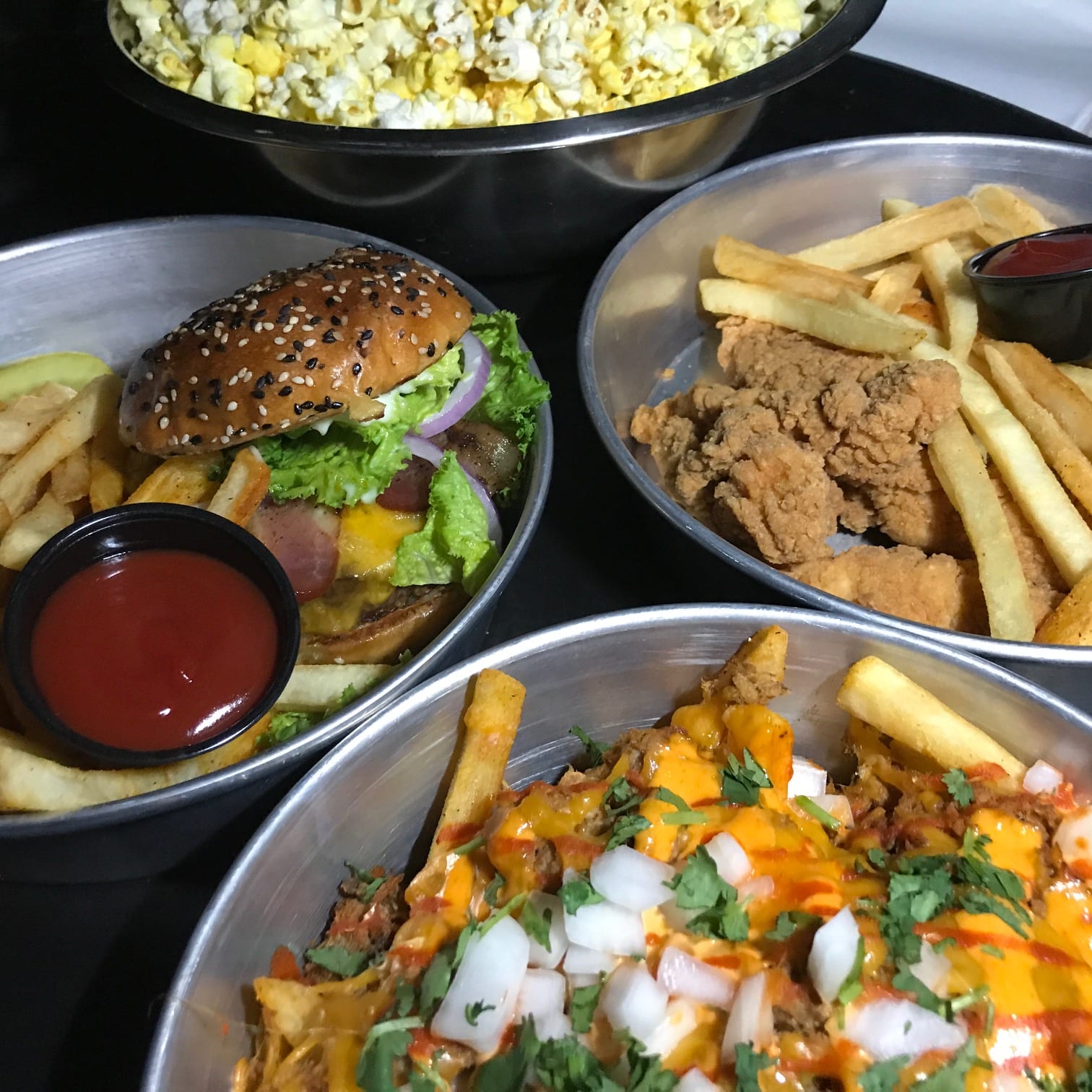 You can also order dinner and drinks right in the theater so no need to argue about where to eat beforehand. I was blown away by the creative food choices and found their snack options dangerously tempting (albeit some harder than others to eat in the dark). Popcorn with truffle Parmesan butter? Kimchi fries? Peanut butter banana fresh baked cookies and pizza rolls that stole the show. It was literally all my salty and sweet cravings in one place. If you want to order something, simply write it on a notecard and a server will come by and grab it, so you don't miss any of the flick. The only problem? The tables weren't big enough for everything we ordered.
They have a free parking lot, but you might want to Uber as they also offer a full drink menu in the theater that features local beer and wine, craft cocktails, and my personal favorite, boozy shakes made with Little Man Ice Cream. There is also a standalone bar called BarFly with games, trivia, and a stage if you want to keep the party going afterward or beforehand. In short, it's a full evening out of the town.
What Was It Like?
I attended the Selena performance and since it was an ode to the "Madonna of Mexico," the event was hosted by divalicious drag queen Felony Misdemeanor. We were given lyrics sheets upon arrival to join in on the crooning, maracas to shake with the tunes, and a candle to partake in the candlelight vigil, a makeshift ceremony held afterward in the parking lot. I was expecting a room-wide karaoke party, but it ended up having more of a rock concert vibe. As much as everyone was hooting and hollering at the screen, they still take movie watching very seriously, and it was never just background noise. I was even scolded for using my cell phone. Despite all that, it was nothing but laughs.
If you're looking for a unique birthday or bachelorette party idea, check their calendar to see what special events they have upcoming (another performance of Selena, Dirty Dancing and Annie are on the docket).