Outdoor recreation is a major draw for visitors to Colorado, with hiking one of the area's most accessible attractions. From scaling epic peaks to easy "walks in the park," green space, aspen forests, and an entire mountain playground await. We've compiled our favorite places to hike for hues and views so lace up your boots and hit the trails.
For Epic Nature Porn – Hanging Lake
Location: Glenwood Canyon, Colorado
Distance from Denver: 3.5 hours
Hike Distance and Difficulty: 2.4-miles, moderate (short but steep)
A unique geological oddity, this National Natural Landmark is one of the most incredible outdoor wonders in Colorado. Admittedly not a secret, over 100,000 visitors a year clamor to see what appears to be an upside down waterfall suspended above brilliantly teal travertine water. A hike better reserved for the summer months, it can be slippery in winter albeit looking like a magical snow globe.
Pro Tip: Parking can be difficult due to its popularity. Arrive either very early in the morning or late in the afternoon.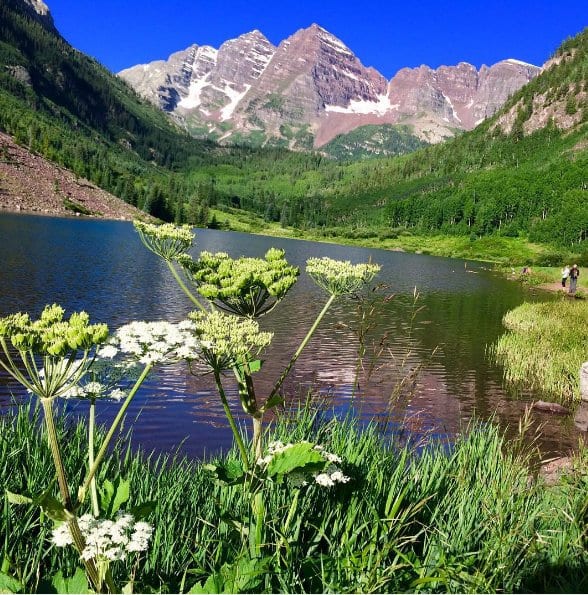 For the Postcard Perfect-View – Maroon Bells
Location: Aspen, Colorado
Distance from Denver: 3.5 hours
Hike Distance and Difficulty: 1-3.6-mile trails, easy
The most photographed peak in all of North America, the perfect lake reflection at Maroon Bells in White River National Forest is the most iconic view of Colorado. Since the trailhead is so popular, there's limited access in the summer and fall months. Instead of driving, you are encouraged to take the local shuttle bus for a small fee.
Pro Tip: Keep your eyes peeled for wildlife including an active beaver pond.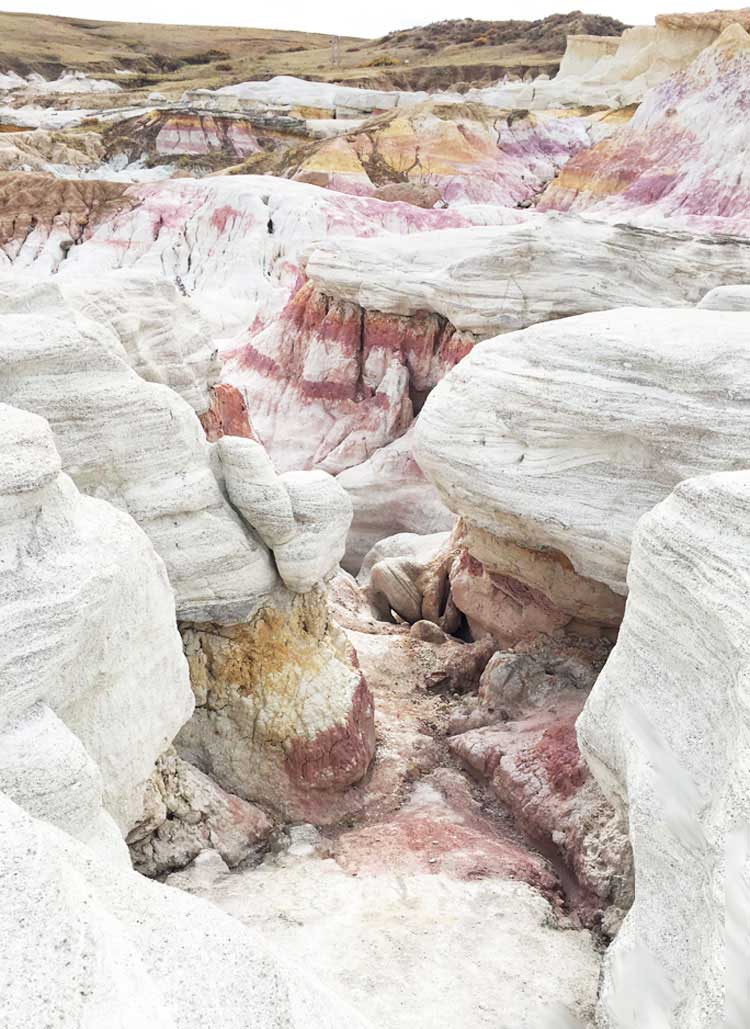 The Under the Radar Gem – Painted Mines Interpretive Park
Location: Calhan, Colorado
Distance from Denver: 2 hours
Hike Distance and Difficulty: 3.4-miles, easy
Dazzling sandstone hoodoos and colorful rock formations outside Colorado Springs; the Painted Mines are a geological wonder that shows evidence of human life as far back as 9,000 years ago. Pink, yellow, and orange streaks look like a mini-Badlands, which Native Americans used in their pottery.
Pro Tip: Rain or snow can cause washouts making it difficult to follow the designated trail. It's best to visit March through October.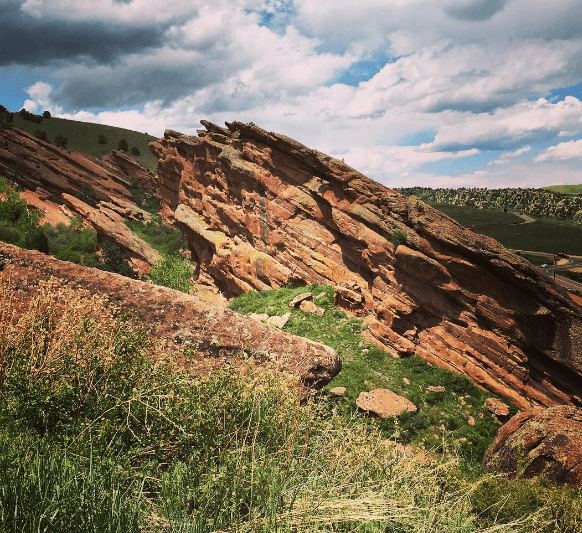 The Best Hike Near Denver – Red Rocks Amphitheatre
Location: Morrison, Colorado
Distance from Denver: 30-minutes
Hike Distance and Difficulty: 1.4-6 miles, moderate
The most acoustically perfect, naturally formed amphitheater in the world doubles as an insane outdoor playground that was once listed among the Seven Wonders of the World. A National Historic Landmark, the giant red sandstone formations are taller than Niagara Falls and believed to be approximately 280 million years old, which predates prehistoric times.
Pro Tip: Beyond concerts, check the schedule for fun events throughout the summer like classic movie nights, yoga on the rocks, and fitness boot camps.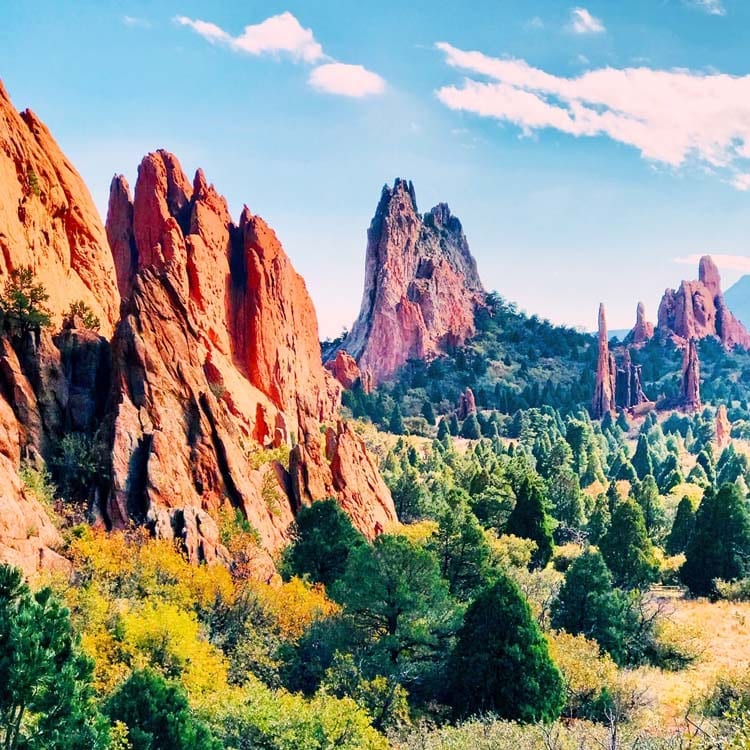 The Best Hike in Colorado Springs – Garden of the Gods
Location: Colorado Springs, Colorado
Distance from Denver: 1.5-hours
Hike Distance and Difficulty: Varies
One of the best free parks in the country; Garden of the Gods is another one of the most photographed spots in Colorado. With an iconic backdrop of Pikes Peak, the registered National Natural Landmark has over 15-miles of trails of varying difficulties and lengths.
Pro Tip: Weekdays are much less crowded, especially if you want to park at the various scenic lookouts.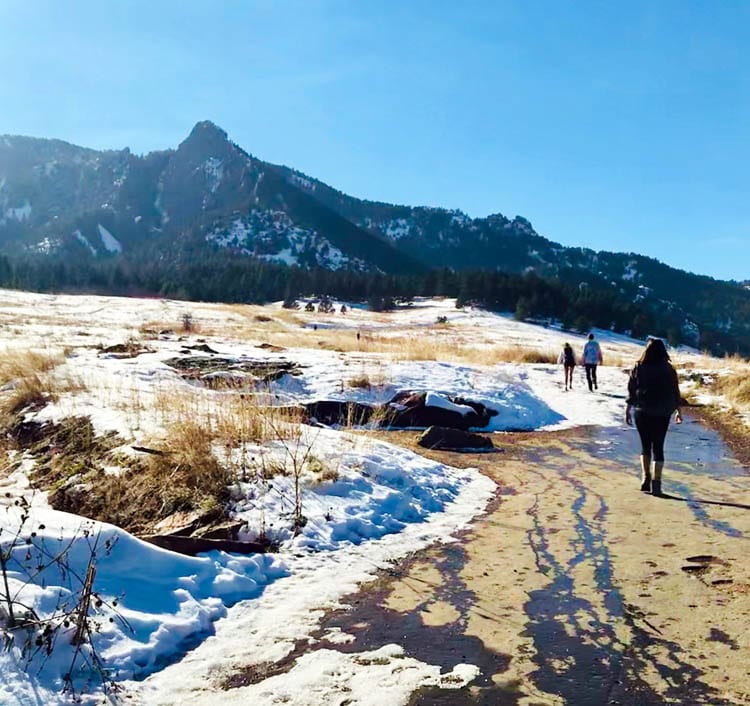 The Best Hike in Boulder – Chautauqua Park
Location: Boulder, Colorado
Distance from Denver: 45 minutes
Hike Distance and Difficulty: .6-6.9-miles, difficulty ranges from easy to strenuous
They say all roads lead to Chautauqua, but really, it's more like all trails start at Chautauqua. Flanked by the Flatirons, the gorgeous peaks said to resemble flat clothes irons, Chautauqua was once an educational summer escape. On the National Registry of Historic Places, you can stay at one of the original cabins, visit the dining hall, or catch a concert at the auditorium. The area is popular with everyone from day hikers to rock climbers.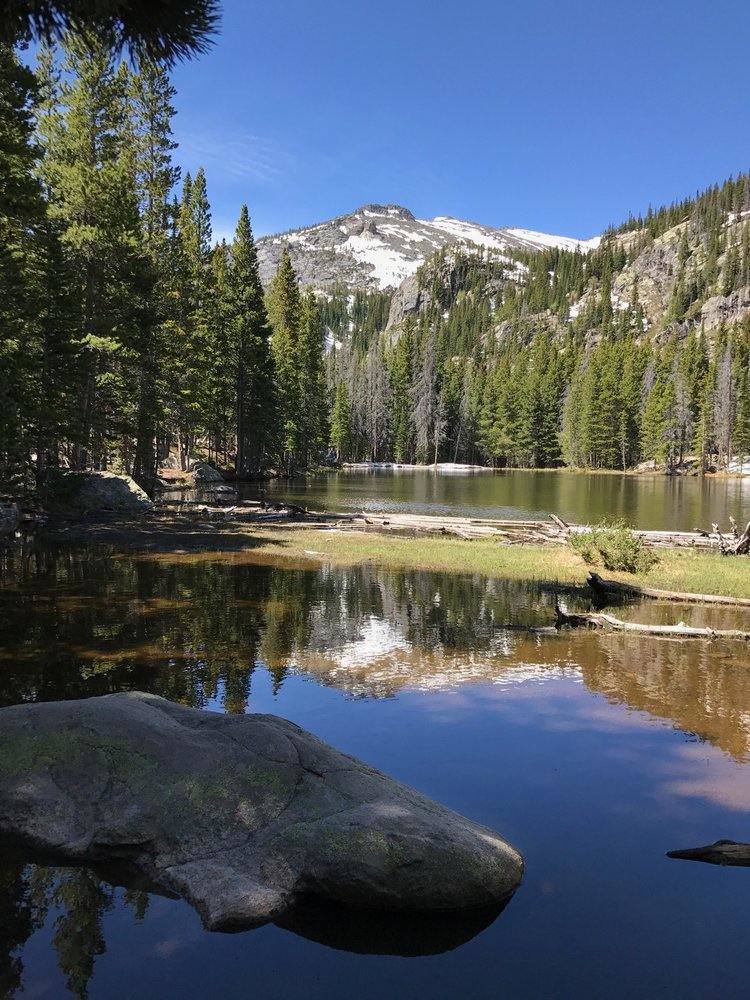 The Best Hike in Rocky Mountain National Park – Dream Lake
Location: Estes Park, Colorado
Distance from Denver: 1.5 hours
Hike Distance and Difficulty: 2.2-miles, easy
415-miles of protected wilderness, RMNP has no shortage of trails for all abilities. The idyllic reflection of Dream Lake is a popular and accessible spot for photographing and picnicking. You should also drive up Trail Ridge Road, the highest paved road in America while you're in the area (which is open seasonally).
Pro Tip: In the warmer months (high season), parking is generally by shuttle lots. In the winter, pack your snowshoes.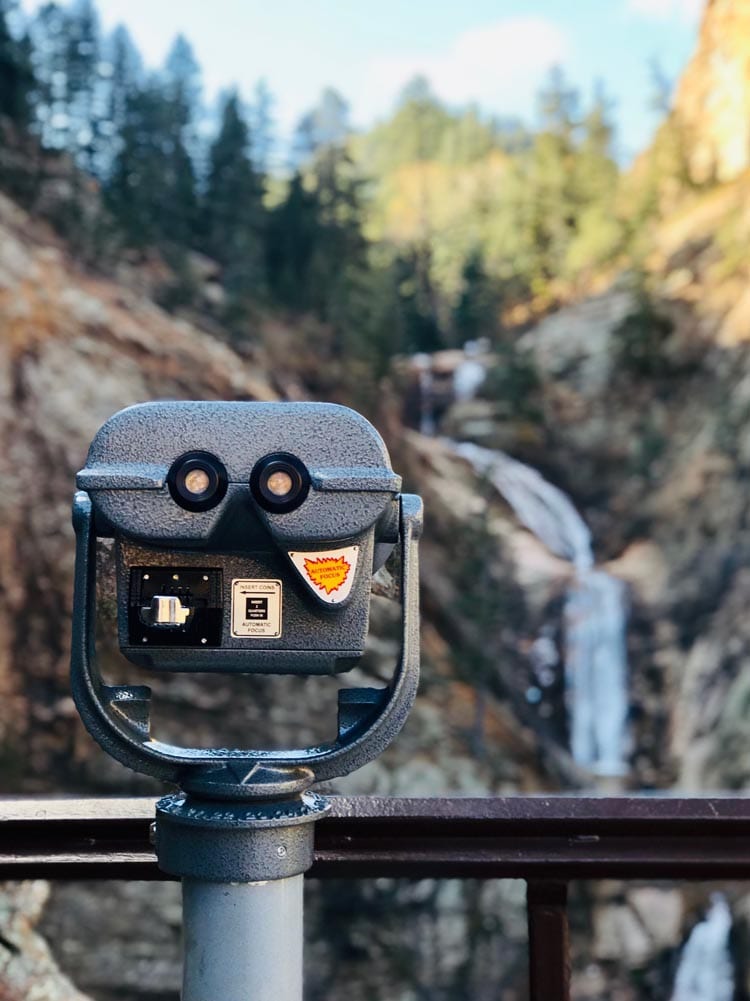 The Most Famous Waterfall – Seven Falls
Location: Colorado Springs. Colorado
Distance from Denver: 1.5-hours
Hike Distance and Difficulty: .8-3-miles, easy
Part of the expansive Broadmoor complex, Seven Falls is the only waterfall in Colorado to be included on National Geographic's list of must-see waterfalls in the world. Like a layer cake, the seven tiers are all distinctly separate, which you can view from an observation deck or by hiking the perimeter after ascending 224-steps to the top. One of the more accessible nature spots, you can also forgo the hike completely and take a $2 tram to the base of the falls.
Pro Tip: The admission fee is good all day and includes shuttle parking. The falls are brilliantly lit up at night so you may want to plan a return visit after dark.
View this post on Instagram
The One With The Surprise at the End – Conundrum Hot Springs
Location: Crested Butte, Colorado
Distance from Denver: 5 hours
Hike Distance and Difficulty: 17-miles, difficult
What used to be a primitive hot springs hike blew up on the Interwebs, becoming a clothing-optional party pilgrimage. The hot springs are amongst the highest elevation in the country and feature pools of varying sizes and temperatures. By no means a short hike, almost everyone spends the night and hikes back in the morning since it takes on average 4-7 hours each way (about 9-miles in and 9-miles out),
Pro Tip: To limit the number of overnight visitors and discourage the mess left behind, they transitioned to a permit system for campsites in 2018, which you can apply for at recreation.gov. Make sure you're doing your part to Leave No Trace.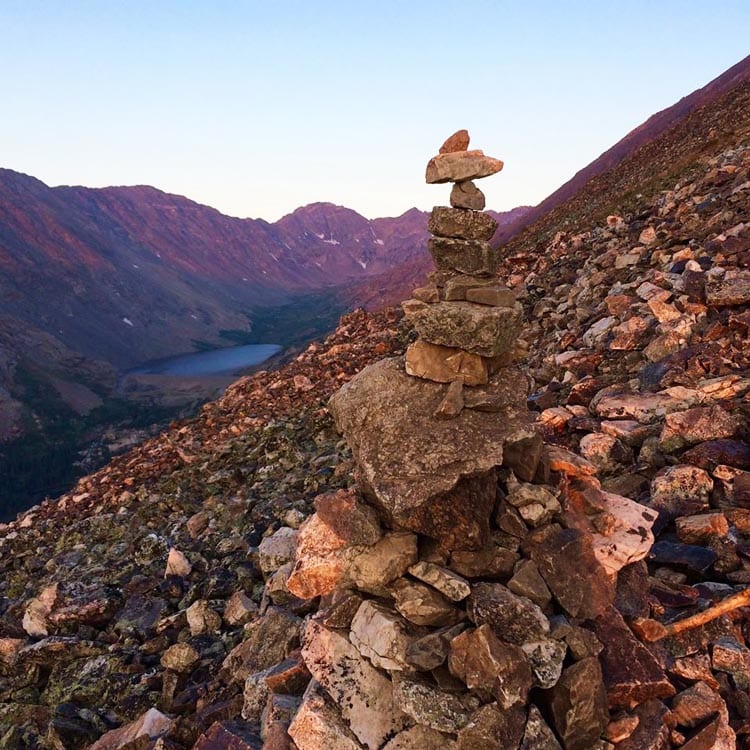 Bucket List – Any Fourteener
Location: Multiple
Distance from Denver: Varies
Hike Distance and Difficulty: Varies, but the easier ones are generally 8-12 hours and by no means "easy"
The ultimate bucket list item for any Denver outdoor enthusiast, a fourteener is any mountain that towers over 14,000 feet. There are 54 or 58 of them (depending on your classification) sprinkled throughout the state. Many athletes challenge themselves to conquer as many as possible. Some of the best beginner fourteener hikes are Grays (8-miles, Keystone), Torreys (8-miles, Keystone), Quandary (7-miles, Breckenridge), Bierstadt (7-miles, Georgetown), or Elbert (9-miles, Leadville).
Pro Tip: Pack plenty of water, snacks, layers (the summits are chilly), and headlamps (you'll likely need to start early in the am). Altitude sickness is a real concern so give your body ample time to acclimate.
Like It? Pin It!